The Export Development Bank of Egypt (EBank) continues to support education and health, aligning with its strategy and stemming from its relentless commitment to the Egyptian community, and in line with its CSR activities. On the education front, the Bank funded and supported Masr El Kheir Foundation in providing for operational and educational costs of five schools in Essna villages in Luxor Governorate, Upper Egypt. The fund bears the costs of sports, arts, recreational and cultural activities, as well as books, tools and students' uniforms among others. These are the very same schools which were previously established and renovated by the bank.
This donation aligns with our willingness to help upgrade education in Upper Egypt, where there aren't enough schools to accommodate young children.
Stemming from our firm belief in the importance of scientific research and its impact on the whole community, the Bank supported Zewail City and University for Science and Technology, by introducing six scholarships to distinct students who need financial aid to cover tuition and housing fees.
Additionally, EBank has participated in establishing a new charitable investment mutual fund for education purposes, mainly for enhancing and developing the level of education in different fields, in all aspects and means.

On healthcare side, the Bank continues to financially support different health issues and cases, this is through previously signed protocols with different foundations, such as Ahl Misr Foundation for establishing and furnishing a double room in the Burn and Accidents' Victims Hospital, including the cost of medical equipment. This year, also, EBank continued to cover the chemotherapy sessions of breast cancer patients in Bahia Hospital for Early Detection and Breast Cancer Treatment, through the Memorandum of Understanding (MOU) previously signed with the foundation.

On the environment front, the Bank collects all the waste papers and the outdated documents, which in turn get shredded then given to specialized organization for recycling, in order to protect the environment. On another hand, EBank inspects all its vehicles regularly, to make sure they don't contribute in polluting environment. Moreover, the Bank applies "environmentally friendly" policy in construction, maintenance and energy saving materials.
Furthermore, the Bank continues its new initiative to support the agricultural sector in the mega project called "Plant – Collect – Export", in coordination with Misr El Kheir Foundation.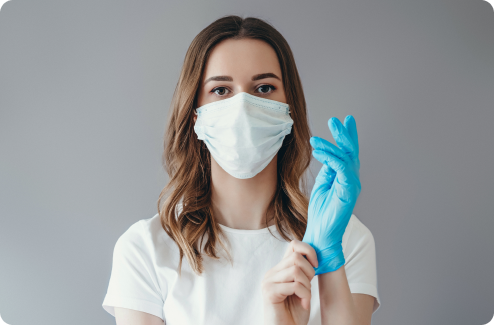 In light of the COVID – 19 crisis, and in support to the affected categories of impermanent and temporary workers and employees who lost their jobs, the Bank participated in the initiative launched by the Egyptian Banking Institute to support people who lost their financial resources due to COVID-19. EBank also financially supported Ibrahim Badran Foundation in HOSTING awareness sessions about the spread of Corona virus for low-income villagers in different governorates. The sessions focused on preventive and protective methods, including the proper way to use face masks, sterilizers and sanitizers. Additionally, the bank contributed to the distribution of personal protective equipment's, sanitizers, supplements and sterilizers to those poor villages.
Financial Inclusion and Awareness

in order to raise financial awareness among youth, the Bank participated, for a fifth consecutive year, in the initiative under the supervision of the Egyptian Banking Institute (EBI), in partnership with the Ministry of Education, where workshops and lectures were conducted to university students. We also sponsored and supported the Egyptian Banking Simulation Model – EBSM, organized by the Faculty of Economics and Political Sciences – Cairo University, where financials and banking informative sessions were conducted to those university students.
As part of its role towards the community development and corporate social responsibility, and in order to contribute in solving the unemployment issues. The Bank usually participates in many job fairs, organized by several entities and in different business fields.

The bank also supported Tahya Misr Fund, believing in the cause of the national projects for the country and for development issues of the whole population. Moreover, the Bank participated in the Martyrs' Fund lost their lives defending the country, the fund is mainly to support the families of those martyrs.


This year, the CSR Department started and took a couple of new initiatives:
The "CSR monthly tip", where a CSR tip is sent to all staff via email as a monthly slogan to act with. A list of all the foundations and NGOs which have accounts in the Bank was emailed to all EBank staff to encourage them to donate regularly.
Buying the handcraft products of "Al Amal Village for Homeless", to use these products as giveaways. The village give shelters to those homeless, educate and give them trainings in different fields.
The CSR Department invited Misr El Kheir Foundation at EBank premises before "Eid El Adha", encouraging staff to donate "Sak El Odheya".
Business Community Support
the Bank continued to participate in different activities organized by the Chambers of Industries and Commerce as well as the Businessmen Associations, by attending or sponsoring exhibitions, forums, seminars, conferences and roundtables, locally and internationally. The Bank provides financial support to such chambers and organizations through memberships and participating in their different events in order to remain an active member among these communities. During this year, the Bank was keen to know all about new implications on international trade and global economy.
In order to develop and reinforce business relations with businessmen and exporters, the Bank continuously coordinates with the Ministry of Trade and Industry as well as other specialized centers. The Bank always gives priority to introduce itself to local and international business communities, to open new markets for Egyptian products and to facilitate commercial trade through the Business to Business (B2B) events organized by these associations, such as The American Chamber of Commerce, Canadian Chamber of Commerce, Union of Arab Banks, El Wafaa' Association, Federation of Egyptian Banks, Egyptian Banking Institute, Egyptian Financial Supervisory Authority, Egyptian Capital Market Authority, The Egyptian Exchange, Misr for Central Clearing, Depositary and Registry, Egyptian Businessmen Association, Arab Union for Industrial Exports Development, Arab Industrial Development and Mining Organization, I-Score, Lawyers Syndicate, the Egyptian International Company for the Production of Aluminum Sectors (EIPAL), and the Arab Investors Union.
In Line with our strategy to introduce the Egyptian export community, mostly manufacturers from different sectors, to key export service providers in Egypt, he Bank is keen to be present at the most important economic local and international events, such as: the annual conference of Federation of Egyptian Banks, the 12th Egypt Economic Forum and Summit, Cairo Banking Breakfast "Export Finance", the conference held by the University of Language and Communication first conference "Culture and Media – New Directions" organized by the Arab Academy for Science, Technology and Maritime Transport, this is in addition to the "Future of Investment" conference arranged by Alexandria Business Association, as well as "People and Banks 2019 Conference" which is annually presented by Arab Media Center and additionally the 6th Middle East Strategic Communications Conferences, organized by Online for Conferences and Fairs. 
This is in addition to the specialized fairs and exhibitions which are attended and sponsored by the Bank, in order to develop the Egyptian products to meet and compete with the international standards as well as expanding the volume of exports. The purpose is also to help Egyptian exporters to expand sales by providing opportunities to meet providers of key export services in Egypt in "B2B" events, through networking, data-collection and raising awareness about key resources to increase export and sales.
Some of these exhibitions and fairs include the following:
HATS Egypt fair (The home appliances & tableware), which was organized by the Engineering Export Council of Egypt under the auspices of the Ministry of Trade and Industry and supported by Export Development Authority and Egyptian Commercial Services.

"Torathna" conference and exhibition, an initiative that goes with EBank interest in support to the microfinance and authentic Egyptian hand craft products and heritage, organized by MSME, Projects Development Organization.

The International Exhibition and Conference for Investment and Franchise 2019 "Buzinex".

The 19TH EDITION of Hotelier Summit Egypt, which is organized by Expo-Link and specially designed to assist those who invest, design, build, operate and supply in areas where hospitality is delivered in the Middle East, Africa and India etc. The idea of this event is that international projects holders meet local projects holders and suppliers who are specialized in furniture, building materials, engineering, textiles, chemicals, printing, leather and handicrafts

Food Africa Exhibition 2019, under the Auspices of Food Export Council – Ministry of Trade & Industry, in order to enhance our presence and generate leads for new business in the food sector.

China-Africa Economic & Trade Expo Fair 2019, under the auspices of Export Development Authority – EDA, its aim was to bring together both African and Chinese business communities in order to strengthen and develop economic cooperation, partnership and trade relations.


BWA21 – Kenya Trade Mission, "Women in Business, North meets East Forum", in order to invade new African markets for Egyptian products through meetings with the international, global and regional African organizations. This is in line with the Bank strategic plan to expand the African markets to support Egyptian exports through signing commercial agreements with African entities.
Moreover, the Bank usually participates in most of the large international and local events such as:
The World Youth Forum 2019, which was a very good chance to communicate with different age groups and market for the new image of EBank.
Egypt Economic Forum 2020.

Egypt Investment Forum 2020, under the patronage of His Excellency President Abdel Fattah El Sisi, with enormous exposure for Arab and African countries in addition to sessions about export activities in Africa, The Forum was organized by the Federation of Egyptian Chambers of Commerce and Al-Iktissad Wal-Aamal Group in cooperation with the Union of Arab Chambers. Attracted government officials, ministers, experts, businessmen and investors from Egypt and various Arab countries as well as representatives of regional and international financial institutions and bodies. It also coincided with the meetings of the Federation of African, Islamic and Mediterranean Chambers, in order to maximize regional and international cooperation.
Euro-Money Conference 2019, the biggest economic and business event worldwide.
Cairo ICT 2019 Conference and Exhibition.

The dinner of the Ministry of Youth and Sports, which was held in the occasion of the African Cup for African delegates.
The Arab Banks Awards & Commendations of Excellence 2019 organized by the World Union of Arab Bankers (WUAB), in Beirut – Lebanon.
Digital transformation in banks and the future of financial intermediation conference, under the auspices of Mr. Tarek Amer, Central Bank of Egypt's Governor and organized by the Union of Arab Banks in coordination with Federation of Egyptian Banks (FEB).
The Annual Arab Banking Conference for 2019 "The Implications of the Political Fluctuations on Banking Conference, organized by the Union of Arab Banks (UAB) and under the patronage of CBE Governor, Mr. Tarek Amer, and supported by WUAB and FEB.
The Bank is always keen to participate in the export related activities organized by the British Egyptian Businessmen Association (BEBA) such as "Egypt as an Export Hub in Africa". EBank also supports the local and regional events such as the tennis tournament in El Ward Island Club in Mansoura.
The Bank supported "Nile-Preneurs" initiative, initiated by the Central Bank of Egypt, executed by Nile University in coordination with banks and the Projects Development Unit, the initiative aims to provide financing services, training, education, marketing services and investment opportunities as well as ready-made projects and start-ups, including feasibility studies for entrepreneurs. The initiative was officially inaugurated during this financial year.
It is worth noting that the Bank was listed among the top 100 effective companies and its Chairperson, Mervat Sultan as one of the top 50 successful leaders.
Moreover, the Bank signed a couple of MOUs, protocols and agreements with the following parties:
SANAD to support SMEs, agricultural exporters, and microfinance institutions in Egypt boosting the Bank's ability to finance agricultural, small and medium-sized exporters as well as microfinance institutions (MFIs) in Egypt.
ESISCO – Beshay agreement (Syndicated loan)
A Memorandum of understanding between ECGE – Export Credit Guarantee Company (one of the Bank's subsidiaries) and SACE.
An agreement with Port Said Government to finance 58 factories of young entrepreneurs among the small and microfinance loans and facilities financing program, the factories are run and managed by those young investors to produce Egyptian products, which some of those products are exported, through that agreement the Bank provides non-financial services, advisory services and financial consultation and information on how to open new markets.
A protocol with Industrial Development Authority for financing small industrial units for establishing 4000 factory including start-ups financing and providing non-financial services and consultation services for opening new markets.
An MOU between Egypt and Italy on cooperation between both parties for the support and development of foreign trade and investment, exchanging information and economic collaboration

In the context of women empowerment, economically and financially, EBank sponsored different initiatives to wider support women, where the Bank supported, participated in and attended the following:
BWE21 6th Annual Conference held in Sharm El Sheikh, where EBank's role was promoting Export activities specially within women entrepreneurs
Egyptian Women Forum which stipulated Egyptian women success stories in all life fields, scientific, Success stories of Egyptian Women were enumerated, motivating other women to seek and occupy pioneer and leadership positions, learning and gaining experience from leader businesswomen in all life spheres.